Free Monthly Timesheet Template for Excel
Use our free monthly Excel timesheet template to track an entire month's time
Track and review your month's pay period on one simple timesheet template. Download our monthly time tracking template, or track your time faster with your free ClickTime trial.
Monthly Time Tracking with Excel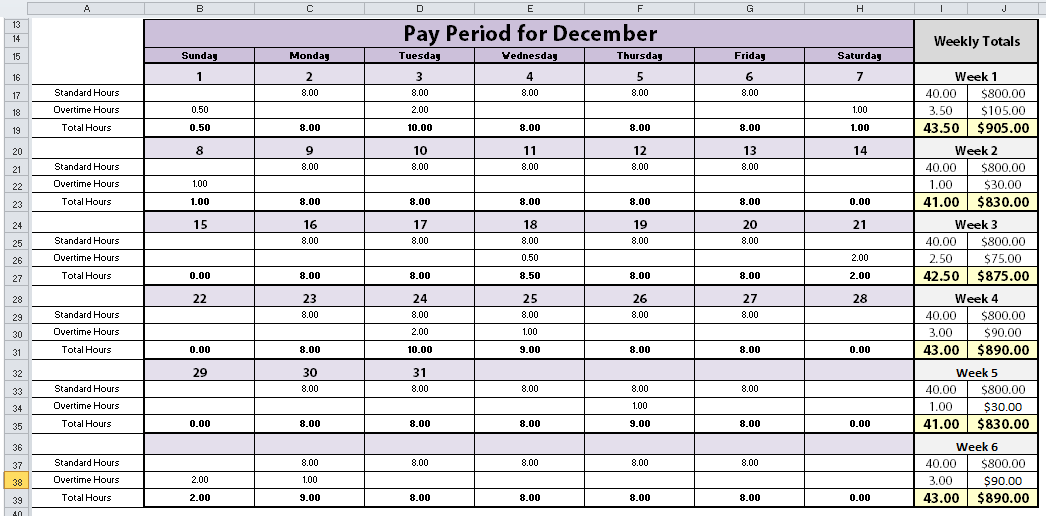 Keep track of your worked hours with our monthly timesheet for employees. Learn how our free Excel timesheets and ClickTime Web Timesheet can help make time tracking easier for you!
Automated Pay and Time Tracking
All your employees have to do is enter in their hours, and ClickTime's free monthly template will do the rest. Total hours and monthly and weekly pay are calculated so you don't have to tabulate the totals from timesheets for multiple employees every month.
A Timesheet Template That Fits on One, Clean Printout
Laid out like a simple calendar, ClickTime's printable timesheet presents your employee's time on one, clean page and includes all the important information you need. ClickTime consolidates all the information into a simple chart so you can review timesheet data with ease.

More Than a Timesheet Template — Online Time Tracking from ClickTime
Monthly timesheets allow your organization to:
Understand project costs
Stay on budget
Manage overtime work
Improve employee scheduling
Plan employee hours
Worry Less About Your Company's Time Tracking
ClickTime's Web Timesheet gives you peace of mind with its numerous automated functions and calculations. All hours are calculated and totaled automatically by our software so you can be certain that the small calculations on your employees' timesheets are accurate. We'll also help improve the consistency and timeliness of your company's timesheet submissions, as ClickTime will automatically notify employees with late or incomplete timesheets by email.
Review and Analyze Monthly Timesheets
In addition to consolidating your monthly time tracking data, ClickTime also provides exceptional tools for reviewing data. Start your ClickTime free trial now to gain access to over 80 pre-loaded reports that allow you to review your time-tracking data in clear and comprehensible ways — or easily track expenses from your mobile device!

Your Free Timesheet Template:
Import Your Timesheet Template into Excel
Simply download your timesheet template and save the file in Excel. From there, you can enter employee hours, manage employee overtime, and understand project needs — whether it's hiring more team members, updating timelines, or improving processes to work more efficiently.