Hi, we're ClickTime
We're best known for our world-class timesheet management software used by thousands of customers worldwide.
If you're interested in driving best business practices around the globe, while being mentored by – and working alongside – super-smart, driven, team-oriented people, ClickTime may be the place for you.

You're a Candidate
You believe in working smart, making an impact, and laughing hard with incredible teammates every day.
You're best known for your drive, enthusiasm, and stellar attitude. You may have a storied career in tech; you may be beginning your foray into tech; or you may be a recent graduate figuring out your career path.
Whether you're a cookie-cutter fit or a complete misfit, we want to talk to you.
Thousands of businesses trust ClickTime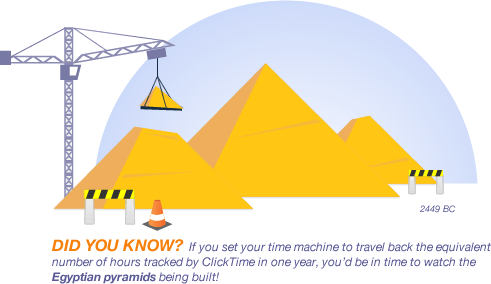 Benefits at ClickTime
An exercise tower where you can practice your push-ups
Front-row seats where you can watch other people practice push-ups
Profit-sharing (did we mention we're profitable?)
Quality coffee, tea, and beer for true aficionados
Medical, dental, vision!
401k matching
Central location accessible by all forms of transit
Company sponsored trips!