Airborne Mobile: Maximize Profitability
Airborne Mobile managers needed to easily assess employee time allocation. How did ClickTime help equip Airborne Mobile with the best set of time-tracking tools to maximize profitability?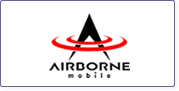 Customer:
Airborne Mobile
Industry:
Entertainment
Challenges:
Assess profitability by project to maximize revenue
Integrate time-entry tool with other in-house management systems
Results:
Efficient time entry increased accuracy of Cost Reporting
Robust features like Automated Reminders allowed Airborne to quickly ensure employee compliance
About the Client
Since 2000, Airborne Mobile (airbornemobile.com) has been pioneering, building, and helping to establish the burgeoning mobile media space. Airborne enables ad agencies, consumer brands and retailers to directly reach the palms and pockets of consumers.
Airborne conceives, creates and distributes best-of-breed mobile programs including messaging products, graphics, video, ringtones, ringback tones, full-track downloads and web sites.. Airborne has created a broad product portfolio for top-of-mind brands like Family Guy™, Maxim™, SPEED TV™, NHL™, Food Network™, Taco Bell™ and Marc Ecko Enterprises™.
The Challenge
Airborne needed a way to help assess their profitability by project. With a dynamic and fast-paced work environment, Airborne managers were finding it hard to demonstrate how its employees were spending their time. "Everything was approximated and we were not confident enough with our estimates. We wanted to make sure that people were spending their time on projects that maximized revenue," says Anne Belanger, Airborne Mobile Director of Business Intelligence.
Prior to ClickTime, Airborne tried implementing a different time tracking tool. "The first tool that we tried to implement failed because the user-interface was really cumbersome. It was very difficult for our employees to use it and it flopped," says Belanger. "We started looking for a more intuitive online timesheet tool that was accessible anywhere, anytime."
The Solution
Airborne implemented ClickTime as a time tracking solution to help assess profitability. Employees submit timesheets monthly for approval and Airborne managers use this information to determine profitability by project.
Because Airborne uses ClickTime with three other in-house management systems, the ability to easily export reports is extremely important. "All my favorite reports are customizable exports. The process is very easy; I check off a few options and the export is quickly populated," says Belanger. In addition to their basic time tracking needs, Airborne also enjoyed assistance from ClickTime's Professional Services Team in implementing a feature that they needed. "The people at ClickTime were very quick to answer our questions and provide solutions. They displayed flexibility and offered convenience in meeting our needs. It's definitely a great service," says Belanger.
The Results
By implementing an easy-to-use timesheet system, employees began filling out timesheets more faithfully. "When we first implemented ClickTime, some people submitted their timesheets late and we were able to quickly notify them with an email reminder. Now they are filling timesheets out more diligently; says Belanger.
For Airborne, ClickTime is easy to use, convenient, and provides powerful reporting options. "As a user, I think it's very easy to use — I really like the stopwatch feature. It's just always there, always open and makes it easy for people to track their time. ClickTime allows our users to enter time easily - it's flexible and offers a lot of options," says Belanger, "As a manager, it's really eye-opening knowing what people spend time on. It's definitely helping us make better business decisions."