Professional Services
Take advantage of the services offered by our in-house consulting team and build a custom timesheet & expense solution that works as uniquely as you do.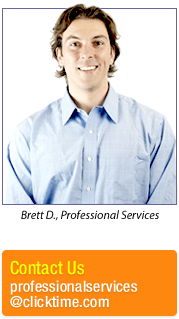 What can our Professional Services Team do for you?
Our Professional Services Team's unmatched expertise translates into a world-class time tracking and expense solution tailored to fit your needs. Our in-house consulting team will create a solution that works as uniquely as you do. We are here to help you:
Build custom reports
Visualize company data
Track metrics
Become an expert in ClickTime's time tracking and expense solution
Bridge software integration gaps
Manage time tracking and expense data

Custom Report Solutions
ClickTime has
75+ pre-built data reports
spanning 7 comprehensive categories, but occasionally our customers want a custom-built report that speaks to the particular way they do business. If you need a report to organize your data in a unique and meaningful way for your business then our Professional Services Team can help! We create dozens of custom-reporting solutions every year—all built to our customers' exacting standards.
Company Dashboard Customization
ClickTime has out-of-the-box dashboards, but our Professional Services Team can develop additional data visualization tools that allow administrators, managers, and decision-makers to monitor and manage business trends and key performance indicators.

Comprehensive Training
ClickTime believes that you should never stop learning. That's why we provide you with a learning path to give you the skills, knowledge, and best practices for sustainable success. Whether you're completely new to ClickTime, or just want to learn to tap into the full potential of ClickTime Timesheets, we've got the training you're looking for.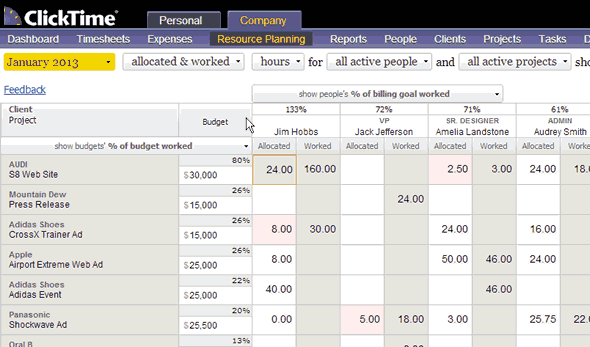 ClickTime offers customized curriculums that fit. We offer training for managers and admins, as well as regular users, in a wide variety of subjects such as:
Manager training
End user training
Advanced reporting
Software integrations

Software Integration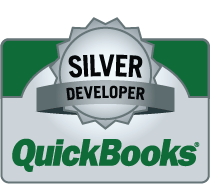 ClickTime—a certified Silver Developer with Intuit—
integrates timesheet data
seamlessly with many of the most popular accounting and payroll solutions. If you're looking for additional integration to legacy software, or require additional assistance navigating the Web services API, our Professional Services Team is here to help. Our expert team can guide you and your IT staff through the ins and outs of integrating with ClickTime.
Robust Web Services Support
ClickTime is a light-weight and intuitive application, but we offer robust
web services solutions
to synchronize data between ClickTime and your internal applications and processes. Utilizing both our SOAP and REST web methods we can build an application tailored to your needs. Or, assist your developers and IT resources on your home-rolled solution. Integration solutions handled by our Professional Services Team include:
Custom reporting
Payroll
Accounting
And more!
Database Development
ClickTime understands the challenges inherent in time tracking and expense data, and we have the resources to help you manage it. If you need bulk data manipulation or queries our Professional Services Team has access to the tools to provide you with a custom solution.

Let our customers tell you why they chose ClickTime Web Timesheet:
"The Professional Services Team took the time to really engage themselves in the process and internalized much of our reporting and accounting practices. They were extremely patient and took the time to understand the key issues. They really deserve high marks, taking the time to interface with our accounting department to assess our needs."
—Ed Surges, Director of Information Technology, Jonathan Rose Companies