Track Time Off with ClickTime Online Timesheets
Easily keep track of time off and calculate vacation accrual
Accurately tracking and reviewing earned sick time, vacation time and other non-worked time can cause a workflow nightmare between managers, employees, and the HR department. ClickTime's Time Off Module conveniently streamlines this process by tracking, reporting, and automatically accruing non-worked time.
Focus, Focus, Focus
Allow your managers to focus on more important tasks than manually processing non-worked time. ClickTime offers time tracking with Time Off module features that display employee-specific accrual rates that automatically accumulate each month.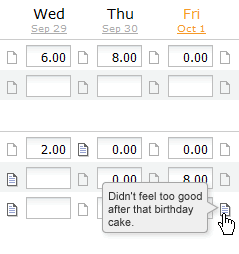 Enter time off easily and quickly right below regular hours. Use the option of notes so every hour off can be documented properly.
Easy, Simple, Automated
While employees individually report the vacation time they've taken, ClickTime automatically deducts it from earned vacation time. Need a report for all the sick-time balances for your entire staff? It's just a click away.
Streamline Your Business's Time Management
Put an end to confusion about how and where to report non-worked time. Because the Time Off Module is completely integrated with ClickTime Web Timesheet, employees enter their non-worked time on the same screen as their regular timesheet, with daily and weekly totals reflecting all time entered.
Save Time
Save your employees a trip to the HR department with the self-serve features of ClickTime. Employees can check their accrued vacation time with a click of a button, saving them a call to their manager or HR department. In addition, managers can easily generate Time Off reports for an employee, a division, or the entire company.
Tracking Vacation Time FAQ
How do I track time off?

You can track time off by simply entering your hours in the Time Off section of your timesheet. Like all time entries, once submitted, this information will go to your manager for approval.

Why track time off?

Tracking time off helps your organization stay in compliance with various local, state, and federal regulations. Time off reports also surface critical data around employee hours, and highlight which employees are available to take on new work.

How is vacation time different than sick time?

Vacation time and sick time are both benefits provided by businesses to their employees. U.S. federal law does not require that businesses offer these benefits, but it is critical that when provided, they are clearly defined. Paid vacation requires consistent accrual standards for each employee, and must follow state, regional, and local restrictions. Sick leave, or sick time, should be described in your employee handbook and shared with your team. Typically, sick time is used for manage personal or family mental or physical illness.

How do I accrue time off?

You can set your employee's accrual rate, maximum time off, and starting time off balance on the Personal Defaults page. Simply enter the rate of accrual (how much PTO each employee earns per month), and you should be good to go!