Kenzan Media: Time Tracking Cloud Solution
Kenzan Media was growing rapidly and required a reliable tracking system to accommodate its employees in the office and in the field. See how ClickTime's time tracking service became the perfect cloud solution for Kenzan Media.
The Challenge
Kenzan Media's team needed a way to integrate its employee time tracking with a web hosted solution. "We support contractors working all over the east coast, from central New York to Providence, Rhode Island," recalled Eric Spiegel, CFO, "With multiple projects and contractors coming in and out, it was essential to find a solution that would facilitate on-the-go time tracking."
Prior to ClickTime, Spiegel spent long hours crunching numbers by hand for his company's monthly timesheets. "First, I would sit down at the end of a billing cycle, with piles of paper spreadsheets at my desk," recalls Spiegel, "Then I would have to manually account for everything, and finally enter data into QuickBooks. It was inefficient and tedious work, but someone had to do it." Spiegel was not satisfied with the extensive amount of time that was required to aggregate the company's time.
In addition to the frustration of committing long hours to processing timesheets, Spiegel was aware of the possibilities of introducing errors when inputting data by hand. Errors from transcribing paper timesheets into QuickBooks lengthened the process for Spiegel, and contributed to his frustration. Spiegel recalls thinking, "There had to be a better way." ClickTime's intuitive system was the solution they needed.

Continue reading the Kenzan Media Case Study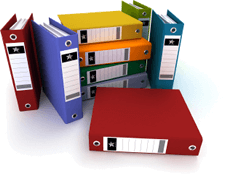 See how Kenzan Media and other companies have utilized our web-based timesheet service to achieve management goals, streamline business practices, and much more.
Gain immediate access to this and all of our other case studies: