Billable Time Entries
Maximize profit by accurately capturing billable time!
Never let billable time slip through the cracks again with ClickTime's intuitive and flexible billing rate controls.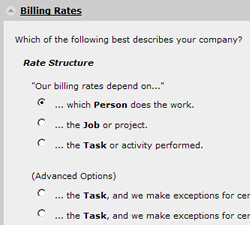 Our billing rate structure allows for seven different options based on people, jobs, or tasks. There are also possible exceptions for jobs, people, and clients.
Flexible Billing Options
Whether you bill by person, job, or task, we've got you covered. Our web-based solution can easily handle a variety of common billing rate models and is flexible enough to accommodate customizations and exceptions. No matter how you bill, ClickTime lets you stay on top of things using methods you have already established for your business.
Billable vs. Non-Billable Jobs
We help simplify billing by automatically distinguishing between billable and non-billable entities. With one click, you can specify whether you bill against a given entity, and all time entered against that entity is organized accordingly. When you are ready to bill your clients, all the calculations are already done.
Our professional reports deliver quick and easy billing details with many options, including Detail by Person.
Clear and Professional Reports
If you are a service firm that bills by the hour, you will love our professional reports. In addition to our rich collection of out-of-the-box reports, we provide several sophisticated reporting tools that enable you to export your data in virtually any format.

Easily edit, duplicate, and manage jobs that are marked as billable or non-billable.