Advanced Job Estimation
Keep your budgets from running over with the Advanced Job Estimation Module
Time is money and effective businesses cannot afford to waste either one. The Advanced Job Estimation Module provides managers with a useful tool with powerful options to compare up-to-the-second estimated job values with actual job values.
Save Time
The job estimation module — integrated tightly into our award-winning web timesheet system — allows managers to efficiently track estimates and employee time all in one place.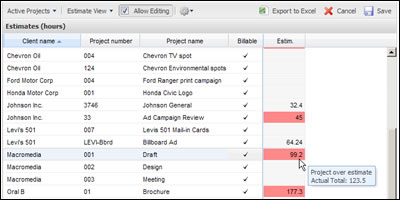 Intuitive color-coding on the job estimate worksheet enables managers to quickly see which jobs are over estimate.
Clean visuals and an interactive worksheet interface make administering job estimations fast and intuitive. It's easy to perform quick edits and updates with the simple-to-use grid layout that accommodates your choice of job estimation model.
Save Money
Runaway projects are one of the biggest and most costly challenges that businesses face. With the built-in dashboard, managers are sure to have the situational awareness to stay on-budget. Continuous data updates allow administrators to refine their estimates, and tighten up the gap between estimated and actual values.
Flexible Job Estimation Model
Customize your Job Estimation model to match the way your company manages your projects.


The Estimates Dashboard provides real-time graphical analysis of important job estimation positions. The dashboard is seamlessly integrated, providing valuable metrics from the second a manager logs in.
Many choices of estimation models are available:
by Job
by Job by Month
by Job by Person
by Job by Task
You can also track your budgets:
by Dollars (or your local currency)
by Hours