Welcome to the all-new ClickTime 7.0!
ClickTime adds Dashboards for managers and employees, a revolutionary new Resource Planning suite, and tons of other great features!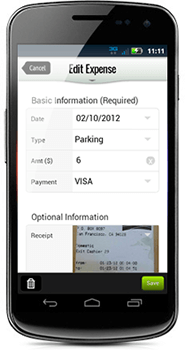 ClickTime Mobile App for Android and iPhone
The perfect mobile companion application for tracking time, expenses, and receipts integrates seamlessly with ClickTime 7.0. This free download for ClickTime users allows employees to shoot and upload receipts directly from any iPhone or Android smartphone.
ClickTime Resource Planning
The revolutionary ClickTime Resource Planning suite allows companies to easily track monthly project budgets and efficiently allocate and distribute employee hour and budget resources. With a complete resource planning suite at your disposal, you can easily boost productivity through real-time business analytics and better forecast resource and budget requirements.

Easily manage billable goals with the Resource Planning grid. Watch your allocation with budgets that update automatically.
Billing Goals
This new goal and management component integrates seamlessly with time tracking, allowing companies to track and improve billable utilization and easily set and track progress towards billing goals.
Company Dashboard
ClickTime's new heads-up display allows administrators, managers, and decision-makers to analyze graphs and charts that make it easy to dynamically discover business trends and obtain key performance indicators vital to companies.
Personal Dashboard
ClickTime 7.0 now displays on-screen updates of real-time daily progress towards billing goals for employees, as set by managers. It's easier than ever to manage goals and set targets with Employee Dashboards!
REST API
Are you looking for deeper integration with your proprietary systems? Or are you interested in building and integrating your own custom application with ClickTime? We now offer a REST API that is accessible by all customers! Check out our web services documentation for details.
Want more news?
Continue reading the full Release Notes!